BLUE MOON LANDSCAPE, acrylic wet on wet simple painting techniques by Dranitsin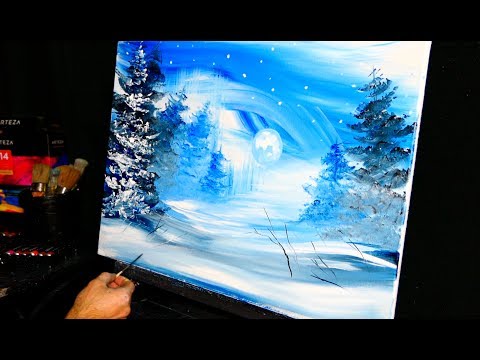 ART SUPPLY for US: http://arteza.com/?a_aid=UC3hCdJZXe9k…

ART SUPPLY for EU: https://arteza.co.uk/?a_aid=PeterDran…

MEDIUM: acrylics

THEME: 'BLUE MOON LANDSCAPE' — fast, acrylics, wet on wet, simple painting techniques by Dranitsin

COLORS: mars black, titanium white, phthalo blue

TOOLS: fan paint brush, liner brush

CANVAS: 18×24″ pre-stretched & double primed all cotton canvas; wet the canvas surface just before you start creating. When preparing canvas be sure to wet both sides initially to make sure it is nice and tight when you start painting. I also recommend covering entire canvas with thin coat of acrylic white paint.

Painting tip: when creating landscapes or any other scenery paintings, be sure to start from the farthest object and work yourself forward in layers. Also, use lighter colors and tints for the farthest objects. Use darker colors and more detail for the objects closer to you. This will help create illusion of distance in your painting.

MUSIC:

SAPPHEIRO

DIRECT & FINDING HOPE

— FALLING INTO PLACE
— FALLING (FT. eSoreni)
— FRAGMENTS
— MEMORIES

https://soundcloud.com/findinghopemus…
https://www.facebook.com/findinghopem…
https://open.spotify.com/artist/0QGDb…
https://www.youtube.com/channel/UCq3q…


ANNA B MAY — eMinus

— LETTING GO (Tetra3lue Release)

https://www.annabmay.com
https://www.youtube.com/annabmay
https://annabmay.bandcamp.com/track/o…

JOIN THIS CHANNEL to enjoy even more art videos by Dranitsin and get exclusive perks available to members only:
https://www.youtube.com/channel/UC3hC…

EVEN MORE ART VIDEOS BY DRANITSIN: https://urartstudio.com/product-categ…

DISPLAY YOUR PAINTING IN VIRTUAL ROOM: http://abstractartlesson.com/display-…

* http://urartstudio.com — paintings, art video lessons and tutorials, T-shirt vector logo designs
* http://www.abstractartlesson.com — more art video lessons
Facebook — https://www.facebook.com/pdranitsin
Instagram — peter.dranitsin
Blogger — https://abstractartoriginal.blogspot….
Pinterest — https://www.pinterest.com/pdranitsin/
Etsy — https://www.etsy.com/shop/UrArtStudio

Disclaimer: Peter Dranitsin is affiliated with Arteza.

Please be sure to subscribe to stay updated with my latest art videos. Thank you for all of your support!
Пометить материал как неуместный